Can a Locksmith Make Keys from Locks?
The basic answer to the question 'Can a locksmith make keys from locks?' is yes. However, it is not always that simple. Different locksmiths have different levels of training and some lock models are more complex than others.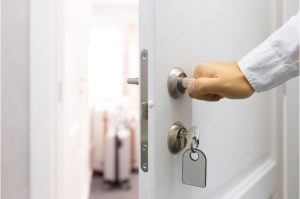 Some locksmiths may have trouble making keys from some locks. If you want to make a duplicate key, there is no need to make it from the lock as they can use the existing one.
How to Make a Key from a Lock
Impressioning
Impressioning your lock means your locksmith does not need to disassemble it to make a key. Even though the process may appear simple, it requires a lot of time and practice. A locksmith inserts a key blank into the lock in question before turning the blank key. In the process, the pins will bind on the lock cylinder marking out parts that need to be filled. The locksmith will then file their key blank to make a key. It may take a few tries for the process to be complete.
Cutting the Key to Code
This is one of the most preferred methods of making a key from a lock because it is very simple. It uses the key code. A key code refers to certain characters that make the keys for specific locks. Key codes may either be bitting or blind. Locksmiths use bitting codes to fashion keys from locks. The process mainly involves inserting a key blank into the cutter. The locksmith must be careful enough to insert it properly. They use a code cutter blade. There are different code cutters but they all serve the same purpose.
Disassembling the Lock
If a locksmith is unable to cut a key to the code, they may have to disassemble the entire lock. It is a difficult process that is only used when everything else fails. Disassembling allows a locksmith to get access to the pins in the cylinder. They will then take measurements of the pins and other components to make a key.
Making a key from a lock is a task that needs the input of a professional. With this in mind you need to look for a team of experts who are ready to help you. At CPPM Locksmiths, we believe we are that partner you need to free you from woes of home insecurity.
Contact CPPM Locksmiths today for reliable and affordable locksmith services in Abington, Oxford, and the surrounding areas. We offer 24/7 emergency locksmith services and our work is approved by insurance providers.