Why Choose Us for Your Lock Repair Services?
When looking for a locksmith, it is important to identify one that you can trust. Your home is your castle so you need to keep it safe at all times. It is important to find a good locksmith right after you buy your home. CPPM Locksmiths is committed to providing you with lock repair services in Abington, Headington, Oxford, and the surrounding areas. We also repair your damaged doors and frames in case of a break in.
We can repair or replace your old or broken locks. Our lock repairs are available for different types of locks including Euro Cylinders, Mortice Locks, Anti-Snap Locks, and Combination locks. Our agents can help you identify the type of lock you have if you are not sure.
Our security surveys help you to maintain the security of your property. We check to ensure they are in good condition and that they are insured. If your locks are not secure, our agents will give you advice and lock repairs that will help keep thieves away.
We are always willing to show you our identification right when we get to your home to help you trust us. We have a Master Security License Number to prove that we are qualified and reliable. Even though all our locksmiths are qualified and experienced, they continue to receive training throughout their practice. It makes it possible for them to keep up with emerging trends.
The key to landing a great locksmith is always on the experience and how willing they are to adapt to the changing trends in home security. To help you land a professional, we always ensure that our team are up to speed with the current wave in the industry. The training and on-site training to our locksmith has helped us continue to churn out a competitive team at every turn.
We offer you a manufacturer's warranty and a guarantee on our workmanship to ensure that you get the best value for your money. Our quotes are fair and straightforward and we do not charge any hidden fees. We offer 24/7 emergency services and our work is approved by insurance providers. We do our best to abide by high standards for our lock repair services at all times.
Are you still unsure of whether you need a locksmith? The secret is to find a reliable one before you need them. CPPM Locksmiths are right at your doorstop. We serve are proud to serve the local area so we can reach you as soon as you need us.
The Different Types of Door Locks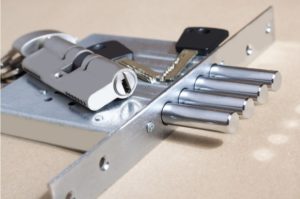 When looking to purchase locks for your home or business, there are many types of door locks available. Different levels of security are required and  the number of options available on the market can be overwhelming. There are many different types of locks – they come in different shapes, sizes, and designs and offer different levels of security. The most common locks are padlocks, levers and knob locks. The type of lock you choose should be based on the amount of security you want.
A locksmith can help you identify the right kind of lock for your needs. The following is a brief explanation of a few common door locks.
These door locks are not attached to the door. They come in various sizes, shapes and style . They hang on the door by a pivoted hook and have a shackle usually in the 'U' shape. There are combination padlocks and keyed padlocks.
Combination padlocks are opened using combinations instead of keys. Keyed padlocks are either rekeyable or non-rekeyable. If a padlock is keyable, that means it is possible to change the key that opens it. Padlocks offer moderate security.
Knob locks areare the most common type of door locks, used for outside doors of residential buildings.  These types of locks are affordable, secure and easy to install. Additionally, they come in many styles and finishes to coordinate with other door accessories. They have a spring bolt which can be moved by a knob and a dead bolt if the right key is used.
Worth mentioning is that they are not as secure as you'd expect since the lock cylinder is in the knob and not the door. Consequently, they can be bypassed using a wrench or pliers behind the knob or broken off the door with a hammer. To make them more secure, you can install them alongside deadbolts. They are used as additional and not the primary security feature. It is very easy to break a door knob from the door because the lock cylinder is not attached to the door.
Deadbolts provide the best protection against burglaries and break-ins. They employ a deadlatch which is designed to prevent battering, boring and "jimmying" – pushing the latch back with a knife or ice pick. This door lock is used with key-operated doorknobs and levers – the key rotates the lock cylinder to the open position. They offer more options than padlocks and are often used together with knob locks. There are single deadbolts, double deadbolts and lockable thumbturn. Single deadbolts have a key cylinder outside and a thumbturn inside. This means that it possible to open a door from inside if there is an opening even as small as a peephole.
Double deadbolts are more secure since they use a key cylinder inside and outside. They are, however, inconvenient. One would have to use a key every time they want to open the door even when they are inside the house.
The lockable thumbturn has a thumbturn on the inside. For increased security, the thumbturn can be locked with key so that one would need to have a key to unlock it. It is the most flexible and convenient deadbolt.
A drawback to deadbolts is that they are prone to malfunctions. The doorknob/lever may refuse to turn when the locks are unlocked, locking you in or out of the house. This can happen to any brand of lock and is caused by a deadlatch failure. If you find yourself in such a situation, call a reputable locksmith like CPPM to address the problem and perform lock repairs.
Mortise locks are usually found in commercial and upmarket residential buildings like condos. Additionally, they are preferred by most commercial property and home insurance providers.
These locks require a mortice to be cut into the door where the lock is fitted. The mortice cylinders feature threads on the outside and are designed to be screwed into a mortise lock.
These locks are mostly found on business doors. To use them, a locksmith has to mount the rim latch locks inside the door. They have a metallic piece that extends beyond the rear of the lock and into a locking mechanism on the other side of the door. They can be found in a variety of lengths.
Lever handle locks are commonly used for inner doors in commercial settings. They feature a deadbolt and thumb turn and come in two options – full-plate and two-piece. They are secure and simple to install and perform lock repairs when they break.
As the name suggests, electric door locks are operated by means of electric current. They are sometimes stand-alone or connected to an access control system. Advantages of these locks include greater control over access and access can granted without keys.
We hope that this information will help you find a lock that's right for your commercial or residential property. Just be sure to measure your door's back set, thickness and cross bore to find the right fit.