If you are looking for a locksmith in the historical town of Wallingford, Oxfordshire then we can help. Here at CPPM, we offer professional locksmith services in and around the area. Based in Abingdon, we often fit new window and door locks to clients in Wallingford and are only a short drive away on the M40. Whether you need us to fit in a new lock for your door, garage, window or cabinet, our experienced team will be happy to help.
When you choose CPPM Locksmiths, we will ensure you receive the best locksmith service around. Our highly trained staff will get to your location quickly and will include full identification passes so you will know it's not just any old stranger turning up at your premises. The keys being fitted will conform to the very highest British Standards BS3621: a British Standard that sets a benchmark out for quality goods and services.
First Rate Locksmith Services in Wallingford and beyond
Whatever the lock you need, we will be able to help and can find the right solution. Our 24 hours a day, seven days a week emergency locksmith services provides you with peace of mind. The knowledge that your property or premises are secure is gratifying; easy access is a spare key away, whenever it is needed. Furthermore, we are insurance approved; this covers us if something goes wrong. We also cover PVC window and door repairs in the event of any break-ins or other damages.
Wallingford, Oxfordshire
The town of Wallingford has a bustling centre of local commerce so we often find local retailers and businesses who need our local services and rely on us. Examples include the many shops to be found in the streets  around the town centre. In other words, a potential customer base of over 11,600 people. Other parts of Oxfordshire covered include Abingdon, Headington, Kidlington, Didcot, Witney and Grove. Also the county city, too.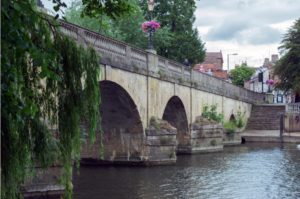 At CPPM Locksmiths, we often find ourselves in this historic market town when visiting our many clients which is only a 25 minute drive away from our base in Abington. You can sense the town has played an important role throughout English history with Wallingford Castle having been created in 1067 by William the Conqueror following his taking of the throne after battle. The castle is now declared as a scheduled monument and Grade I listed building.
The Romans loved Wallingford, but they proved to be unreliable residents, while the Saxons put in the effort to build the earliest forms of settlements. Agatha Christine wrote her famous works from Wallingford and her grave lies nearby in Cholsey. In the fictional Midsomer Murders, Wallingford is the village of Causton. Nevertheless, this European town is a friendly, scenic town that is located by the River Thames.
If you have any queries about our locksmith services in Wallingford and surrounding areas, why not give us a call on 01235 239068? For our 24/7 emergency locksmith services, call us on 07760 537147. Alternatively, you can also email us via colinpizzie@btinternet.com. Whatever way you choose to contact us, we will aim to get back to you as quickly as possible.