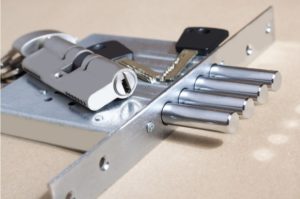 There are many types of door locks because different levels of security are required. The most common locks are padlocks, levers and knob locks. The type of lock you choose should be based on the amount of security you want. A locksmith can help you identify the right kind of lock for your needs. The following is a brief explanation of a few common door locks.
These door locks are not attached to the door. They come in various sizes, shapes and style . They hang on the door by a pivoted hook and have a shackle usually in the 'U' shape. There are combination padlocks and keyed padlocks.
Combination padlocks are opened using combinations instead of keys. Keyed padlocks are either rekeyable or non-rekeyable. If a padlock is keyable, that means it is possible to change the key that opens it. Padlocks offer moderate security.
Knob locks are common in outside doors of residential buildings. They have a spring bolt which can be moved by a knob and a dead bolt if the right key is used.
They are used as additional and not the primary security feature. It is very easy to break a door knob from the door because the lock cylinder is not attached to the door.
They offer more options than padlocks and are often used together with knob locks.. There are single deadbolts, double deadbolts and lockable thumbturn. Single deadbolts have a key cylinder outside and a thumbturn inside. This means that it possible to open a door from inside if there is an opening even as small as a peephole.
Double deadbolts are more secure since they use a key cylinder inside and outside. They are, however, inconvenient. One would have to use a key every time they want to open the door even when they are inside the house.
The lockable thumbturn has a thumbturn on the inside. For increased security, the thumbturn can be locked with key so that one would need to have a key to unlock it. It is the most flexible and convenient deadbolt.
These locks are mostly found on business doors. To use them, a locksmith has to mount the rim latch locks inside the door. They have a metallic piece that extends beyond the rear of the lock and into a locking mechanism on the other side of the door. They can be found in a variety of lengths.