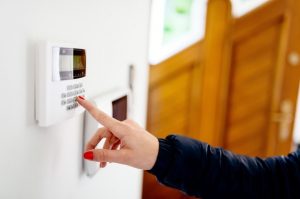 Summer is a great time for you to wind down, go for family outings, arrange barbecues, and go for holiday, unfortunately, it's the time that burglars get excited as well. This is due to a few contributing factors such as:
The fact that you are away from home more often.
The high temperatures require you to leave windows open for ventilation.
It's a high season for home repairs and maintenance, which is accompanied by a number of strangers having access to your home.
Following these security tips can protect you from being a burglary victim during summer.
Invest in Home Security
A home security system can easily scare off burglars due to the audible alarm, plus it can immediately contact the authorities for help. If you already have one, always remember to set it on. You can also invest in home automation features to keep your home safer. This allows you to control lights, thermostat, radios, and TVs, which can make it appear like you are home.
Ask Trusted neighbours For Help
When leaving for the holiday, ask a trusted friend or neighbour to keep an eye on your property. They can also do a few things to make it look like someone is home, for instance:
Pick up the mail and newspapers
Turn the lights on and off
Open or close blinds
Park in your driveway
Another option would be to find a house sitter.
Lock Windows and Doors
Locking the doors and windows sounds simple, right? However, most homeowners forget to double check whether they are securely locked before leaving the house. Homeowners leave door and windows open during the summer to help cool the house down. Still, remember to lock them when you go to bed or even when you leave your house for short periods of time; it takes a minute for a burglar to sneak in.
Avoid Posting Your Holiday Plans on Social Media
Sharing on social media about your upcoming holiday plans may be quite tempting. How well do you know all the friends you have on social media, you may just be letting would-be thieves know that you are not home.
Here are a few takeaways to remember in terms of your home security during the summer season:
Lock Doors when You Leave the House
If you leave the entrance of your home open, anyone will be able to gain access to your home. Even if you are leaving for a short period, make sure the doors are locked. Sometimes, emergencies might arise when you are out, and that can turn a short trip to a very long one.
Get Someone to Pick Up Your Mail
If you are going on vacation, you shouldn't let people know that you are not around. Thieves will usually prey on empty homes. You can give the impression that someone is home by getting a trusted neighbour to pick up your mail and newspaper. You can also choose to turn off the mailing service temporarily.
Leave the Lights On
Another way to discourage theft in your home is by leaving a few lights on. This may not be the most energy-efficient solution, but it will be cheaper than having to replace your property.
Keep Expensive Items Out of Plain Sight
Thieves can be motivated to rob you if you show off expensive items. Your valuables should be hidden behind your blinds.
Use the Services of a Locksmith
If part of your door or window is broken, you should enlist the services of a locksmith such as ourselves at CPPM. We will fix your doors and windows, and install locks. These locks are standardised to the latest British standards. You can also contact us if you are unsure about how safe your locks are.
Summer is the best time to have fun, but it comes with its own security issues. To make sure your home is safe this season, you should always lock your doors and windows when you leave the house. Also, have a locksmith check how safe your locks are. If you go away on holiday, make sure you create an impression that there is someone home.
You can never be careful enough when it comes to securing your home. That's why contacting CPPM Locksmiths is a great idea if you are looking for excellent security services in Oxford and its environs. We are highly qualified to fit and supply all types of locks, and we offer 24/7 emergency services to ensure maximum security.