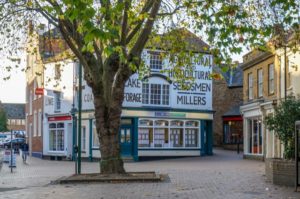 With a population of over 24,000, Banbury town was subject to as many as 3,341 reported crimes in 2017. Among those were offences such as robbery, shoplifting, bike theft, car theft, and burglaries.
Operating as locksmiths in Banbury, we present a look at burglary statistics for Banbury Town to highlight why it is so important that the locks on our properties are secure and have been installed by a reliable locksmith.
A rundown of burglary in Banbury Town
Burglary statistics for Banbury Town show that there were 174 burglaries reported in 2017, and a total of 455 in the last three years
In 2017, around 5% of all reported crimes in Banbury Town were burglaries
After violent crime, shoplifting, anti-social behaviour, and criminal damage and arson, burglary was the fifth most common crime reported in 2017. This makes it one of the biggest crime threats to our homes
Burglary in Banbury through the years
Below is a breakdown of the number of burglaries in Banbury year by year, from 2013-2017:
In 2013 there were a total of 109 burglaries, the lowest number recorded
2014 saw 121 reported burglaries
2015 had 119 burglaries
In 2016 there were 138 burglaries
2017 had 156 burglaries, which is the highest reported number recorded
From this we can infer that the burglary crime rate has risen in recent years. Therefore, it's now more important than ever to ensure your locks are reliable and your homes cannot be broken into.
At what time of year is Burglary the biggest problem?
Based on burglary statistics for Banbury town, there is no specific month in the year where burglary crime rates are higher than others. In 2017, there were around 10-20 burglaries reported each month, with October having 26 reported – the highest all year. However, in 2016 there were only 11 burglaries in October, which was one of the lowest months of the year. Similarly, March 2015 had 20 burglaries reported, while March 2016 only had 9. From this we can tell that there is no consistency to when people choose to burgle properties in Banbury, and a result it's impossible to predict when they are most likely to target our own home. Consequently, we believe it is important to make sure our homes have safe and secure locks all year round.
It's always better safe than sorry
Although Banbury is a great town with a strong community and a lot to offer, the risk of burglary is present in any town or city. At CPPM Locksmiths we believe that people should feel safe and comfortable in their homes at all times. Our top of the range locks and first-class service will ensure that your home is secure, and will minimise the chances that you will be confronted with the dangers that burglary can present.