The door us the primary security measure in any property. A high percentage of burglars gain entry through the main doors.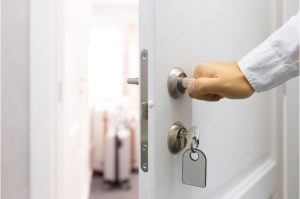 When picking out a door, don't just think of the impression it makes to visitors or the kerb appeal. Ask yourself how much protection it provides to the occupants of the house. A good door should make it hard for trespassers and criminals to enter. Imagine a door that goes down with a single kick or one that needs constant lock repairs? The following are some doors that offer high levels of security to minimise the risk of break-ins.
Solid Timber
Doors with hollow cores are easy to kick down, so avoid them entirely. Solid timber doors are some of the most secure because the material is resilient. The thickness of the door will vary among brands, but the thicker it is, the better the security. You can get a solid timber door in different configurations, depending on your requirements. If the opening is oversized, you can easily buy a customised solid timber door to fit it. You can opt for side glass panels on a solid timber door to let in natural light. Mahogany, Pacific Ash and Oak are some materials that make solid timber doors.
Security Screens
You can get a timber, fibreglass or steel door with a security screen for enhanced protection. Marine-grade stainless steel is one option that manufacturers use for security screens. The gauge of the steel varies with the product. One reason doors come with security screens is that they are harder to cut into. Also, the screen allows the door to withstand the elements better.
Fibreglass
Fibreglass doors are increasingly gaining popularity among homeowners. A big reason is the affordability they provide. A solid timber or steel door can cost up to several thousand pounds. Although fibreglass is less costly than the two options, it is strong and durable. You won't have to fret about premature wear and tear. The material holds up well under extreme weather conditions such as storms and heavy rains. Fibreglass doesn't rot, warp or peel, which keep your door in good condition for long. With a deadbolt or high-grade security lock, a fibreglass door can offer just as good security as solid timber or steel.
CCPM is a leading provider of locksmith services in Oxford and its environs. We can provide lock repairs to your high-security door to ensure that it delivers the safety your home needs. Consult with our experts on what to look for in the best doors.