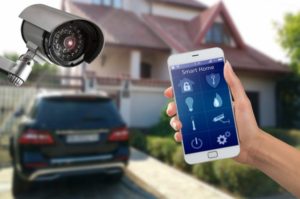 Home security is paramount to any homeowner especially given the sophisticated antics used by burglars to break into homes today. CCTV systems help you reinforce your home's security by providing you real-time surveillance of your premise.
CCTV systems have seen a massive evolution since they were first used in the 20th century. Today they are more efficient, reliable and can be monitored from anywhere.
Here's what to consider while choosing the perfect CCTV system:
Good picture quality
Picture quality should be the first thing you check before installing your CCTV system. Good picture quality enables you to identify smaller details in a recorded video. These details include car license plates and distinct facial features.
To start with go for a CCTV system that can record at 1080 pixels or full HD. Recording at a higher resolution ensures that there is a minimal blur when you zoom in the images.
Good sound quality
Good sound is equally as important as good picture quality. Good sound quality enables you to distinguish recorded voices enabling you to draw better conclusions from the CCTV feeds.
Also, integrating audio in your CCTV system enables you to speak to any perpetrators or visitors before you can allow them entry into your premises. From a surveillance point of view, this reinforces your home security
Storage options
After ascertaining the audio and video quality of your CCTV system, the next area of concern should be the storage options. Normally CCTV systems have cloud storage capabilities which enable you to store recorded feeds in the cloud. However, for a more inclusive surveillance, go for CCTV systems that offer you a local storage capability such as a MicroSD slot. This ensures that your feeds are recorded and stored even when there are Internet outages. Local storages also enable you to review your footage anytime without having to worry about Internet connectivity.
Internet integration and accessibility
We are living in the digital age, and it's only fair you select an up to date CCTV system. Modern CCTV systems are fully Internet-enabled, which makes it possible for them to be monitored from any Internet, enabled device. This means you can monitor your kitchen or backyard from the comfort of your office or any part of the world with an Internet signal.
Also, an Internet-enabled CCTV system can be integrated with Google alerts, SmartThings and Picasa which is reassuring for most users and also creates a superior user interphase.
Ease of use
Go for a CCTV system that is easy to use and operate. Sometimes you may need to access some stored files urgently, and if your system is sophisticated, this can derail you. Also, operating your CCTV system should be seamless for example it should be easy to adjust camera settings and audio settings to suit your preference.
Investing in a good CCTV system not only boosts your home's security but also affords you some peace of mind while you are away from home
How to beat the hackers
Make sure your home CCTV system or webcam supports secure protocols (for example, the WPA2 protocol).
If you need to get internet access for your camera system, make sure it has industry standard encryption (such as SSL/TLS).
Set separate levels of permissions for different types of user.
Always keep your software and firmware up to date.
When viewing video clips of your home CCTV or webcam footage with a smartphone or tablet, never use unsecured public internet access.