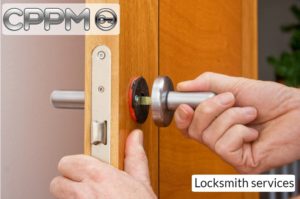 A locksmith is anyone who has got all the skills needed to install, maintain, secure, fix, and opens locks on safes, doors and other places where there are locks. This is contrary to the perception of many people that locksmiths just cut keys even though key cutting is part of what a locksmith has to do. The locksmiths of today are doing more than just operating locks, they can act as security consultants, do forensic locksmithing and offer other professional services related to locksmithing.
Duties of a Commercial Locksmith
A locksmith has got a lot to do. Fix glasses, install doors, operate safes, put doors back on their hinges when they fall off, the list is long, but you might find it unnatural that locksmiths rarely meet people that have been locked out or lost their keys.
Commercial locksmiths come in two formats, the first type include locksmiths who work from their own store, some like our locksmiths in Oxford even have official websites that describe the services they provide. The other lot includes those who fix and maintain problems with locks of small corporations whenever their services are needed. The tasks they are assigned to do are similar to those of mobile and institutional locksmiths.
What a Forensic Locksmith does
Forensic locksmiths are experts who can verify specific information concerning locks and other security systems for the purpose of a prosecution or defence against a legal case. This kind of locksmiths have duties of their own kind. They are usually required to analyze lock systems and be able to identify the areas of weakness in the security system they are working on. They also identify methods and tools used to gain entry into safes, buildings or any other devices. Generally, forensic locksmiths are expected to determine evidence of compromise or tampering but not to detect who committed a crime.
The General Tasks of other Locksmith Specialists
There are other smaller locksmith specialists categorised as electrical locksmith specialists, residential locksmith specialists, security consultants, safe technicians, master key system specialist and automotive locksmith specialists. These locksmiths are entitled to perform various tasks depending on their areas of specialization but there are general duties that locksmith service providers like the Locksmith Oxford do on a daily basis. They are required to:
• Market their security lock systems, key control systems, keyless entry locks, door deadbolts and window bars.
• Repair and replace damaged parts of exit and entrance doors.
• Repair and replace faulty window locks and doors, the electric locking release mechanisms and hinges.
• Inspect locking mechanisms, fabricate keys in order to replace the lost or damaged keys.
• In change lock combinations on vault doors and safes and unlock doors whose keys are lost.
• Design and develop the master key systems for power plants, banks, warehouses, manufacturing plants, and apartment complexes.
• Install and repair electronic security hardware and electric strikes.
• Create keys from code
• Make key copies for residences, warehouse departments and stores as a commercial service.
• Open safes for unknown combinations and repair to safe locks.