How the August Smart Lock forms part of a futuristic home security system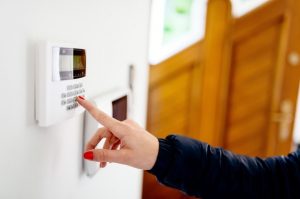 The future of home security gadgets could be sooner than you think, thanks to August Smart Lock. Part of a series of home security products by August, it enables you to control your home's locking system, digitally. All of which from your smartphone or tablet.
For a complete system, the August Smart Lock comes into its own with three other items. These are the Doorbell Cam, the Smart Keypad, and August Connect. The Doorbell Cam enables you to speak to visitors at the front door. It is a digital equivalent to the spy hole or the door chain. August Connect enables you to link your digital locks remotely. This could be replaced by the Doorbell Cam which performs a similar function.
The piece de resistance is the Smart Keypad. Using Bluetooth Low Energy technology, it is connected to the Smart Lock system. It is a digital version of a door or safe combination code. This is bettered by the now obligatory smartphone app, which is the nerve centre.
The smartphone app enables you to lock or unlock the door at certain times of the day. You can also receive notifications, activity logs and answer the front door from your phone. Anywhere in the world. You can also set access rights for guests and family members. Great if you want to stop your teenage son or daughter from getting home too late.
At this moment, you can only order August's Z-Wave Smart Lock system from selected dealers, or from their website. The professional version will be priced at around £150 (please note, this may be subject to change due to exchange rates). It is due for release this Autumn.
CPPM Locksmith, 06 April 2017.