Home Security Gadgets: The Barking Dog Alarm
A look at Clifford James' novel barking dog alarm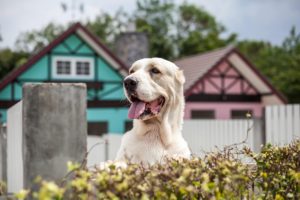 There is one thing which irritates burglars more than anything. Not that of complex locks, nor the house looking busy, if the occupants have gone on holiday. Likely to get 65 or more in Pointless for the source of any burglar's peeves is our four legged friend. Yes, a barking dog.
Dogs are great. When you return, there is no other animal that can give you a joyous welcome. From Chihuahua to Jack Russell and Great Dane, a barking dog is usually first to the scene if its owner comes to grief. Dogs can sense unwelcome callers – burglars for example. As well as being great pets, they can be good at stopping intruders. What if you lack the room for a dog or happen to be allergic to pet hairs? For the last year or so, Clifford James has offered a unique take on the portable burglar alarm.
The barking dog alarm uses motion detectors to alert residents of coming burglars. In this clip below, we see an intruder, running away from what is assumed to be a rabid dog.
Looking like a cross between a 1950s radio set and half a surfboard, the unit is seen placed on a bookshelf. As the clip continues, we see how its portability is good for sheds, yachts, caravans, and tents. How is this possible? The barking dog alarm uses six AA batteries or an AC adaptor. What if you wish to change the sound? There are two other sound options: a doorbell chime or a standard burglar alarm noise.
Though Clifford James has sold the alarm since 2012, various forms of the barking dog alarm have been sold around the world. In the UK they currently sell for £49.99.
Is is worth the dosh? If you don't have a dog, only just. You still need to invest in locksmith services as extra protection for your home. For a bit more than the cost of a barking dog alarm, why not adopt a rescue dog from your nearest animal rescue center (such as the Oxfordshire Animal Sanctuary)? The exercise, the company, and peace of mind is considerably better than a sampled dog bark. All these dog walks mean fewer trips to the gym as well.
Home Security Gadgets: August Smart Lock
How the August Smart Lock forms part of a futuristic home security system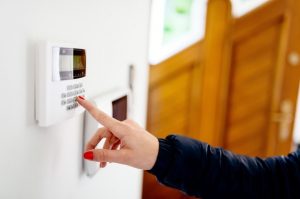 The future of home security gadgets could be sooner than you think, thanks to August Smart Lock. Part of a series of home security products by August, it enables you to control your home's locking system, digitally. All of which from your smartphone or tablet.
For a complete system, the August Smart Lock comes into its own with three other items. These are the Doorbell Cam, the Smart Keypad, and August Connect. The Doorbell Cam enables you to speak to visitors at the front door. It is a digital equivalent to the spy hole or the door chain. August Connect enables you to link your digital locks remotely. This could be replaced by the Doorbell Cam which performs a similar function.
The piece de resistance is the Smart Keypad. Using Bluetooth Low Energy technology, it is connected to the Smart Lock system. It is a digital version of a door or safe combination code. This is bettered by the now obligatory smartphone app, which is the nerve centre.
The smartphone app enables you to lock or unlock the door at certain times of the day. You can also receive notifications, activity logs and answer the front door from your phone. Anywhere in the world. You can also set access rights for guests and family members. Great if you want to stop your teenage son or daughter from getting home too late.
At this moment, you can only order August's Z-Wave Smart Lock system from selected dealers, or from their website. The professional version will be priced at around £150 (please note, this may be subject to change due to exchange rates). It is due for release this Autumn.