A Comprehensive Look at Locksmith Skills
Professional locksmiths have the right training and skills to provide a range of services.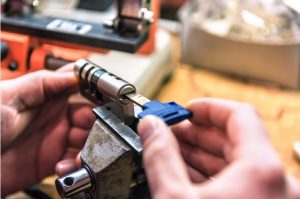 A locksmith is the trades-person you call when you need help with your lock. You can hire one to repair the locks in your home when they suffer damage. If they are too old, a locksmith can change them. When you have locked out of your vehicle or home, the skills of a locksmith come in handy. Besides locks, experts can consult on various matters of security like how to upgrade your security system. What skills does a locksmith need to provide these services?
Metalwork and Carpentry
Whether it's removing an old lock or legally breaking into a house, a locksmith has to interact with the window or door. For this reason, a lock expert must know how the different parts function. Being a locksmith goes far beyond the lock. A good professional must know how the locking mechanism affects the whole operation. For instance, installing a new lock might require a locksmith to alter the entire window sill. With metalwork and woodwork skills, a locksmith knows how to avoid unnecessary damage to doors and windows. Competencies in metalwork and carpentry make it possible for a locksmith to tailor services according to the specific requirements of your installation.
Communication Skills
Locksmiths must be capable of communicating with customers succinctly and patiently. People who call for these services might be frustrated, stressed or panicky. Imagine a customer requesting emergency locksmith services late at night because the key broke in the lock. A locksmith with proper communication skills will know how to handle such a client. Any decent locksmith should be customer-oriented, and that requires good communication skills.
Problem Solving and Practical Thinking
An efficient locksmith thrives on being able to offer the correct solutions to problems. Quick thinking and careful problem analysis are required to achieve this. Lock experts sometimes have to deal with sophisticated locking mechanisms that require analytical thinking. With finely-honed problem-solving skills, a locksmith will know how to approach security issues most effectively. A locksmith might have to get creative when solving certain issues like locked-in keys.
At CPPM Locksmiths, we offer our customers the expertise of highly skilled locksmiths. We have been operating throughout Oxfordshire for years and dealt with issues of all type. Whether you want a safe lock repaired or a new high-grade door lock installed, our professionals are readily available. Customers can ask for emergency locksmith services as well.